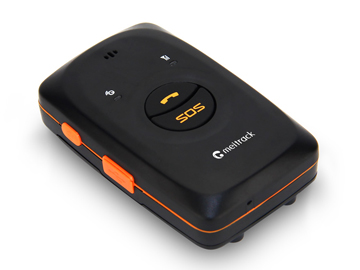 Meitrack MT90G
3G Full Band  Personal Small GPS Tracker
Meitrack MT90G is the 3G full band personal small gps tracker for children, the elderly, and lone workers. Equipped with man down alert, SOS functions and easy-to-use GPS tracking system, you can implement real-time tracking anywhere through a mobile phone or laptop.
Portable design
It is packed with features that can be
found only in larger GPS tracker.
IP65 water resistant
Specialized design guarantees a stable operating performance.
Magnetic charger (optional)
Easier, safer and convenient to charge the device.
180 hours' standby time
Removable lithium-ion battery which ensures remarkably power efficient.

Dimension
77 mm x 47 mm x 20 mm
Weight
76g
Charging voltage
Micro USB charging port: DC 4.2 V–5.5 V/400 mA
Magnetic charging connector: DC 4.2–5.5 V/400 mA
Backup battery
Removable 1100 mAh/3.7 V lithium-ion battery (compatible with Nokia BL-5C battery)
Power consumption
Current in standby mode: 60 mA
Current in deep sleep mode: 5 mA
Operating temperature
-20°C to 55°C
Operating humidity
5%–95%
Working hour
180 hours in power-saving mode
20 hours in normal mode
LED indicator
2 indicators showing power, WCDMA/GSM, and GPS status
Button/Switch
5 buttons/switches
Microphone/Speaker
Internal microphone and speaker
Memory
8 MB byte (130,000 GPS Logs, 8,000 GPRS/HSPA+ cache, and 256 SMS cache)
Sensor
3-axis accelerometer
GSM Frequency band
850/900/1800/1900 MHz
WCDMA frequency band
MT90G:800/850/900/1900/2100 MHz (Global)
MT90G_E:900/2100 MHz (Europe and Asia)
MT90G_A:850/1900 MHz (Amrica)
MT90G_AU:850/900/2100 MHz (Australia only)
MT90G_JP:800/900/2100 MHz (Japan only)
Positioning accuracy
 2.5m
| | | | | | | | |
| --- | --- | --- | --- | --- | --- | --- | --- |
| | MT90G Tracker | | A battery | | USB cable | | Travel adapter (charger) |
| | CD download card | | Screwdriver | | Lanyard | | Magnetic charging connector (Optional) |
CE, FCC, TELEC, NCC, PTCRB, RoHS