The 18th China International Expo for Auto Electronics, Accessories, Tuning & Car Care Products (CIAACE 2014) hosted by YASN International Exhibition is to be held in China International Exhibition Center (New Venue) In Beijing, China during February 20-23, 2014. CIAACE 2014 will accommodate over 6000 exhibitors and more than 22,000 professional visitors, and the floor space will increase to over 250, 000 sq. m. Joyntech (Shenzhen) will bring latest vehicle trackers to debut in the Expo.
Joyntech, a brand of Meitrack Group (Shenzhen), will debut its latest vehicle GPS trackers to attend the Expo. Meitrack Group is a national high-tech enterprise and also a Shenzhen enterprise with Software Enterprise and Product Certificate.
Meitrack Group sincerely welcomes partners and customers from all fields to come visit our exhibitions and negotiate business.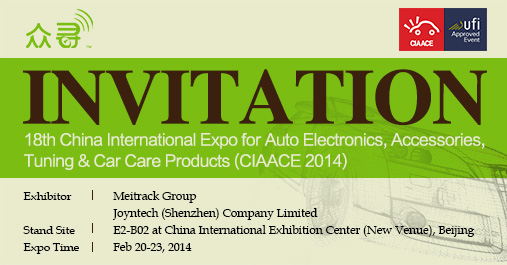 Booth information of Joyntech products are as follows:
Expo Name: 18th China International Expo for Auto Electronics, Accessories, Tuning & Car Care Products (CIAACE 2014)
Expo Time: Feb 20-23, 2014
Exhibitor: Meitrack Group
Joyntech (Shenzhen) Company Limited
Stand Site: E2-B02 at China International Exhibition Center (New Venue), Beijing