A brand new GPS personal tracker MT90 is now launched by Shenzhen Meiligao Electronics Co., Ltd. The MT90 achieves qualitative leaps in terms of both appearance and performance. It's absolutely a perfect partner for children, elderly, pets and backpackers.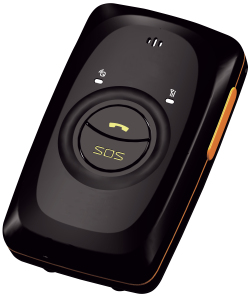 Appearance:
The most shocking part of the MT90 is its eye-catching appearance and shape: classic black and bright orange, small, light and elegant. The designers paid lot attention to the appearance striving to make a perfect combination with craftsmanship and fashion. The black color of the body is considered for special use in invisibility. The 77*47*20mm measurement and 65g weight make it as light and convenient as a mobile phone to take with you everywhere.
Module:
The MT90 made great breakthrough in terms of technologies. Inbuilt GSM 850/900/1800/1900 MHz frequency band ensures it can be universally used. In addition, the MT90 adopts GPS/GSM dual-module positioning which improves accuracy within 10 meters. And the 48 channels make positioning more efficiently. The last but not the least, the SiRF IV GPS module provides stronger penetrability and more stable performance. Inbuilt 8M memory can store up to 130 thousand logs which is incomparable.
Waterproof and Battery:
For backpackers, heavy rain or power ran out may cause a catastrophe. Therefore, the MT90 add waterproof function with IP65 level which can adaptable to air humidity range from 5% to 95%. Though the waterproof level is just better than average, the MT90 is priced reasonably with practical functions. At present, domestic trackers with above IP5 waterproof level often have irremovable batteries. Moreover, the MT90 is a product with both waterproof and two-way audio which fills a market gap. As for power consumption, the MT90 equips with 1100mAh/3.7V Nokia BL-5C removable lithium-ion battery which can last 13 hours in normal use and 60 hours in standby.
 Full Set of Accessories:
    A 2GB map card is added for the MT90 users. After positioning, the MT90 will send real-time off-line location in Chinese to the mobile phone and help users save GPRS rate and time to login onto the platform. Every MT90 has a special screwdriver to prevent others from disassembling the tracker maliciously and at the same time better guarantee seal effect. Orange and black straps are provided for easier carry.
 Conclusion:
The MT90 includes full functions such as SOS alarm, Geo-fence, GPS blind area alarm, low battery alarm, over speed alarm, mileage report and so on. However, the MT90 is not limited to use as personal tracker, it can also be used for car, pet and asset tracking. (The installation instruction for car tracking is shown as below picture)