Meitrack's GPS tracking software MS02 is a server-based tracking system for GPS trackers. It is designed to track the real time status of your vehicle. By logging in to ms02.trackingmate.com, you can check the updated status of your vehicle's whereabouts with an intuitive and easy to use dashboard.
How it looks:
Meitrack's GPS tracking system uses Google Maps for location information.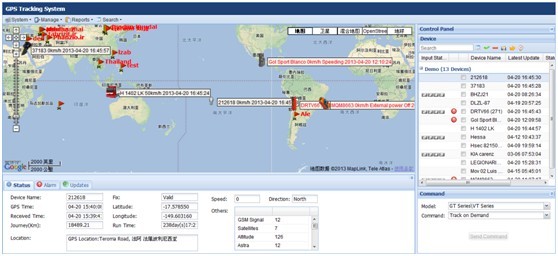 What you can do with it?
Check the real time status of your vehicle
With one click, you can monitor the status of any vehicle that has Meitrack's GPS tracker installed . (i.e. device name, GPS signal, speed, direction, location, journey and much more).
Even if your vehicle is a thousand miles away, Meitrack's software allows you to check the current status of your vehicle or person's location from the comfort of your own home through a commuter or mobile phone connected to the internet. The software was specifically designed based on feedback received from customer demands.
Send commands to control your car
Worried about not having control of your vehicle when away? Meitrack 's software allows you to do just that. Take control of your vehicle at any given time even when the vehicle is found miles away. Sending a simple command helps you stay in control.
Once logged in to the systems, Meitrack provides an easy to use command dashboard that allows you to choose from numerous features such as being able to create a geo-fence to get notifications when a vehicle leaves a predetermined location or being able to cut-off the engine of the vehicle when the vehicle is being stolen.
Check various reports
With Meitrack's software, you can also check various vehicle reports. (i.e. Alarm Reports, History Reports, Speed Reports, Parking Reports, Distance Reports, Distance Statistics, Sensor Reports, Sensor Average Reports, RFID Reports and Picture Reports.
Example screenshot:
In History Reports, you can not only check the history positioning data of your vehicle, but also see the history route of your vehicle with "Show Route" feature. So the next time you lend your vehicle to a friend or family member, there is no need to worry where they've been with your vehicle. You can easily monitor driving history and driving habits through of easy to use system.
In summary, Meitrack's software helps you to better manage and monitor your vehicles. We understand that both hardware and software play an important role in the daily activities of fleet management companies. Our system is offered in more than 21 different languages to help ensure users can understand and control their vehicles or fleet. If your language is not supported yet, we are probably already working on the translations, but you are welcome to submit a request to check the language support details.
Feel free to contact us via email for more information:info@meitrack.com.