INTRO
---
Armored bank vehicles are frequently exposed to high risks of hijacking and violent attacks. To detect or prevent crimes and stop them in progress, Meitrack introduces the mobile video surveillance solution for the cash-in-transit vans. Our hardware products are designed to serve as a comprehensive solution through continuous recording in and around the vehicle, GPS tracking, on-board live look-in capabilities, and a number of accessories to cater to unique needs. In addition, the MS03 platform can be tailor-designed to support businesses.
Key Benefits:
– Track armored bank vehicles anytime and anywhere
– Live video surveillance
– Keep valuable assets safe
– Enhance the safety of staff
– Improve driver behaviors
ARMORED VEHICLE MOBILE VIDEO SOLUTION
---
The solution only allows authorized staff to ignite armored bank vehicles. Inside each vehicle, a MD511H mobile DVR can be connected to up to four cameras, so that the monitoring center can remotely view live videos and audio files anytime and anywhere, get real-time information about everything going on inside or around the vehicle, and know the vehicle' location, speed and direction at all times. In addition, the monitoring center is allowed to enable video monitoring for the vehicle at the preset time or distance interval in order to ensure safe driving and prevent illegal activities. When a vehicle travels outside planned routes or defined boundaries on the MS03 platform, an emergency alert will be reported, cameras will start to record live videos, and these recorded videos will be transmitted in real time. During the trip, all driver behaviors, including speeding, harsh acceleration, harsh braking, harsh cornering, idling overtime, and driver fatigue, are recorded through cameras that are mounted inside the vehicle. After midnight, if the vehicle is parked at a specified location and the WiFi network of the mobile DVR is connected, all captured videos will be sent to the server and deleted from disks automatically. In case of emergency, such as SOS triggered by driver when the armored bank vehicle was hijacked or violently attacked, a vehicle crash, or trying to drive the vehicle without permission, video recording will start immediately and these videos will be transmitted in real time. In the meantime, the monitoring center can quickly and efficiently keep track of what's happening inside the vehicle, remotely cut off the engine to prevent the vehicle from moving, and take immediate action to minimize the loss. All the recorded videos could be used to help identify criminals and be used for their prosecution in the event that they are caught.
MD511H MDVR + 4 Cameras + LCD Monitor + RFID + SOS Button 
---
The MD511H MDVR can be connected to four cameras to record continuously in and around the armored vehicle.
With the LCD monitor, the driver can also get real-time information about everything going on inside or around the carriage of the armored vehicle.
With the RFID reader, driver attendance can be remotely managed, which avoids unauthorized or illegal operation of drivers after they leave work.
When the armored vehicles encounter hijacking or violent attacks during transportation, the driver can ask for help quickly by pressing the SOS button.

ALL-IN-ONE PLATFORM-MS03
---
The MS03 platform that integrates GPS tracking with video surveillance, driver monitoring and alarm systems. It supports the travel route offset alert and allows users to monitor driving routes of the vehicle. If the driver does not drive the vehicle according to the preset driving route, an alert will be triggered. It can also provide the driving route statistics report, fuel statistics report, trip statistics report, event statistics report, start point and ending point statistics report, and other reports, which facilitates information management. In addition, user-defined reports are supported to meet customers' differentiated requirements.

RECOMMENDED HARDWARE & ACCESSORIES
---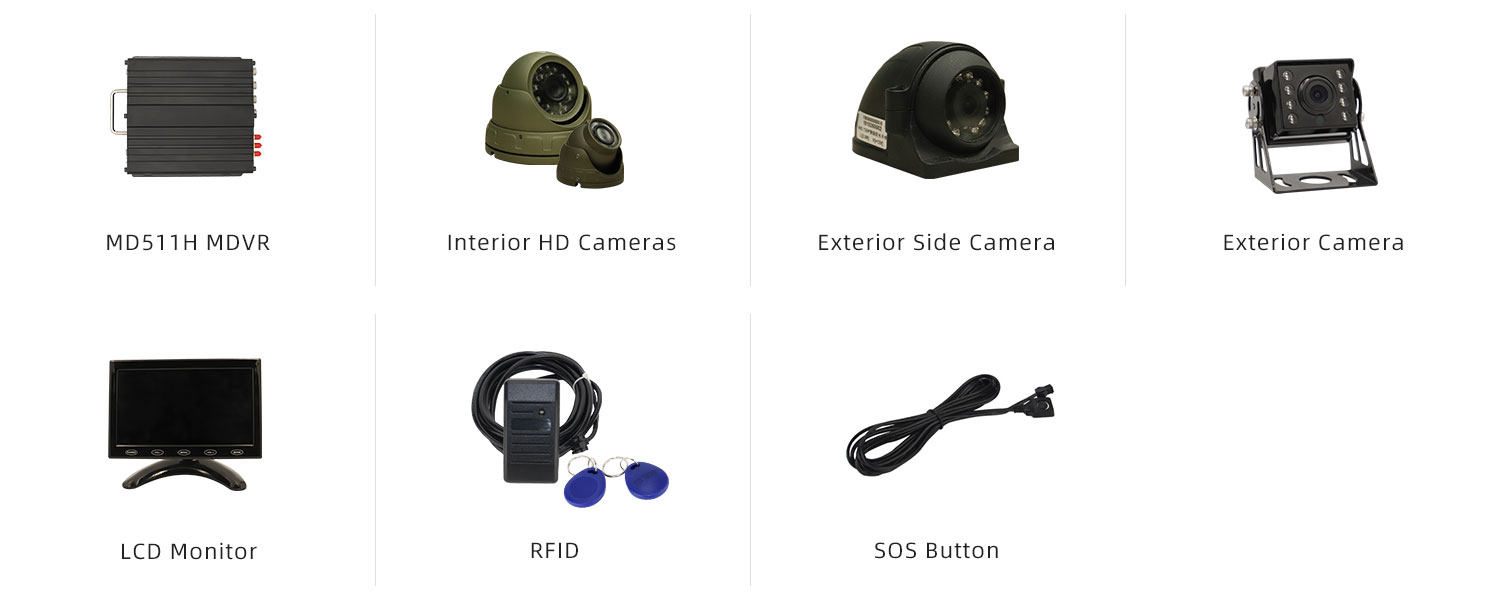 RECOMMENDED SOFTWARE
---