Automated teller machines (ATMs) are always facing security challenges as they are often placed in unattended public areas. ATM thefts are not common but appear to be happening with more frequency. Thieves usually use trucks, construction equipment or hand carts to attack the ATM with the goal of taking the cash inside. No matter which way, Meitrack GPS tracking solution can protect the security of your ATM machines.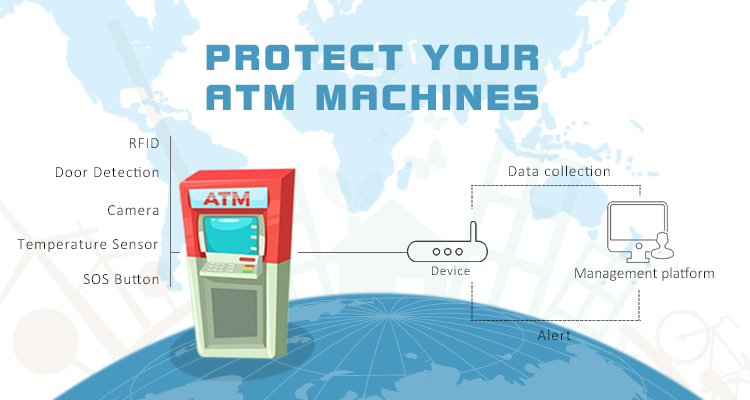 There are many real cases in Indonesia banks. According to our customers' feedback, the GPS tracking solution is very helpful and prevents potential thefts. The solution consists of Meitrack MVT600, a camera, a temperature sensor, a RFID reader and the MS03 tracking platform. The RFID readers allow authorized staff only to have access to the ATMs in order to do routine maintenance, this leaves a digital fingerprint of who had accessed, time, date and place. The temperature sensor can be used to monitor any extreme changes on temperature, as many robberies attack the ATMs using welding materials. The temperature changes would alert the control center to the incident in real time while activating the camera and triggering a buzzer. If the ATMs are moved from their original locations, the tracker concealed in the ATMs will send accurate location coordinates in real time, facilitating ATM tracking. All the data and evidence obtained can be a vital weapon to retrieve the ATMs and prosecute the perpetrators.
The GPS tracking solution provides the following key features:
Live tracking, positioning and monitoring
Motion detection
Instant alerts sent if ATM is tampered
Track location updates every 10 seconds
Accurately pinpoint final device location
Detect temperature changes
Take photos
Learn more about Meitrack MVT600 and how it protects the security of your ATM machines.