Exhibition: IFA 2013 (Internationale Funkausstellung Berlin)
Date: September 6th- 11th, 2013
Venue: Messe Berlin exhibition center
Meitrack Booth: 577-578, Hall26
Shenzhen, 8 August 2013-Meitrack Group, a global prominent products and service supplier in the GPS Tracking and Consumer Electronics Field, would like to invite you to see the exciting innovations we will be exhibiting at IFA 2013 in Berlin from September 6th to 11th at the Messe Berlin Exhibition Center at booth 577-578, Hall26.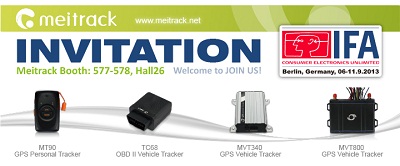 IFA, is the world's leading trade show for consumer electronics and home appliances, which is the place where the leading international brands launch their latest innovations. This exhibition will last six days from Sept 6th to 11th. Meitrack will make its presence at IFA during those days and will showcase its latest GPS Tracking innovations at the fair . The latest arrivals such as T311(Motorcycle Tracking), MT90(GPS Personal Tracker), TC68(OBD II Vehicle Tracker) , MVT800(GPS Vehicle Tracker) and MS02(GPS Tracking System) will meet all your expectations and requirements in personal tracking or vehicle tracking.
Latest product catalog and more information will be offered at our booth. For more information, please visit www.meitrack.net.
We are looking forward to meeting you at the exciting event. Thank you.
Yours truly,
Meitrack