INTRO
---
Meitrack logistics vehicle security solution aims to resolve logistics vehicle problems of operation and security management. With the solution, the main parts inside and outside the vehicle, the vehicle running status, and vehicle driving routes are monitored in real time. The MD500S AI MDVR works with the Advanced Driver Assistance Systems (ADAS) and Driver Monitoring System (DMS) to reduce accident rates. This solution is specially designed to meet logistics enterprises' requirements for vehicle supervision, emergency incident response and vehicle dispatching and makes sure that the cargos reach the destination in a timely and safe manner, thus improving transportation efficiency.
Key Benefits:'
– Track logistics vehicles anytime and anywhere
– Live video surveillance
– Enhance the safety of cargo
– Improve driver behaviors
– Reduce management costs
LOGISTICS VEHICLE SECURITY SOLUTION
---
MD500S AI MDVR + DOOR SENSOR + 2 CAMERAS + IBUTTON + ADAS CAMERA + DMS CAMERA + GNSS MODULE
---
The MD500S AI MDVR is connected to a door sensor to monitor the truck door status. When the truck door is opened, the door sensor sends a signal to the MD500S. After the signal is received successfully by the MD500S, the two HD cameras installed on the top of the truck start recording videos and then upload those videos to the server. In this way, the loading and unloading of cargos are monitored in real time, thus protecting the security of cargos. All the recorded videos could be used to help identify criminals and be used for their prosecution in the event that they are caught. When the truck door is closed, the two cameras stop working immediately so as to save energy consumption and storage space.
With the iButton reader and iButton key, driver attendance can be remotely managed, which avoids unauthorized or illegal operation of drivers after they leave work.
The MD500S AI MDVR can be connected to cameras of the ADAS and DMS, which helps improve bad driving behaviors, reduce accident rates, and protect the safety of the driver.
The MD500S AI MDVR is equipped with a GNSS module for real-time vehicle tracking.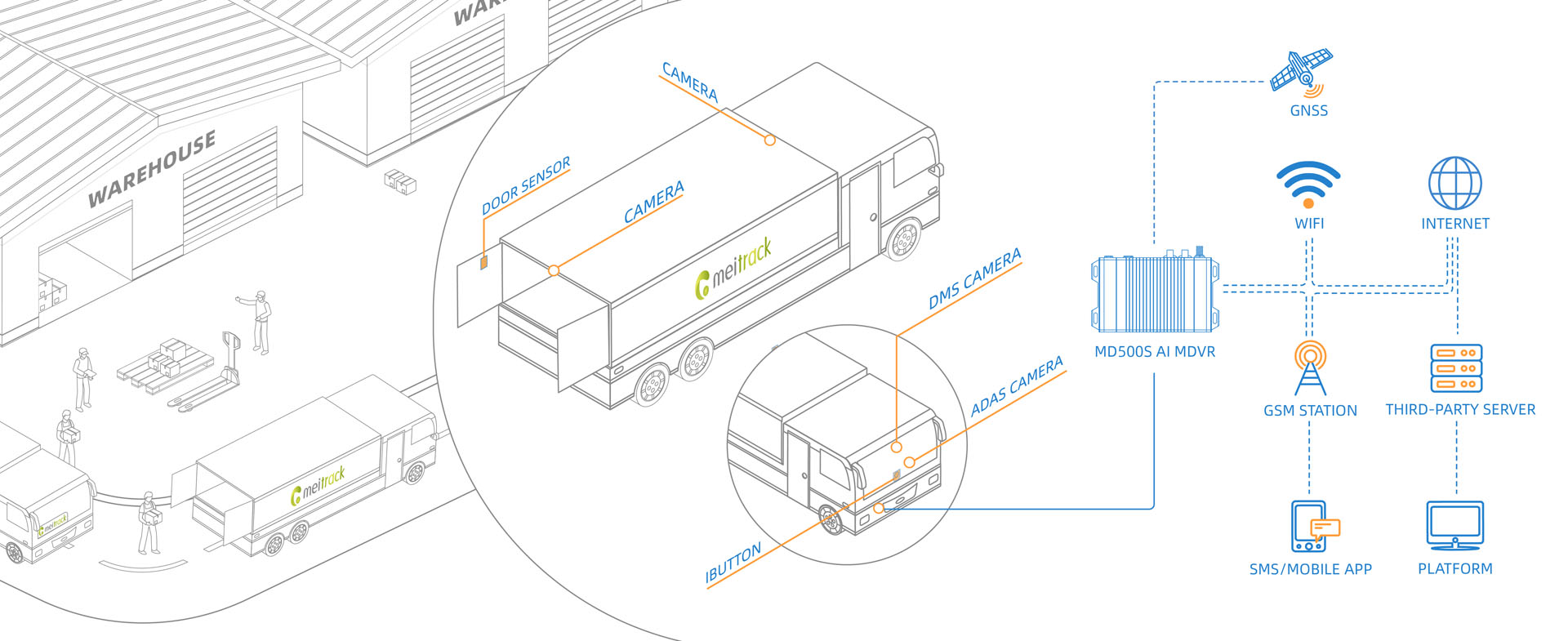 ALL-IN-ONE PLATFORM-MS03
---
Specified alert videos, such as cargo videos after the truck door is opened, driver fatigue alert videos, and left or right lane departure alert videos, can be searched, played back, and downloaded on the MS03 platform.
The MS03 platform supports the travel route offset alert and allows users to monitor driving routes of the vehicle. If the driver does not drive the vehicle according to the preset driving route, an alert will be triggered.
The MS03 platform can also provide the driving route statistics report, fuel statistics report, trip statistics report, event statistics report, start point and ending point statistics report, and other reports, which facilitates information management. In addition, user-defined reports are supported to meet customers' differentiated requirements.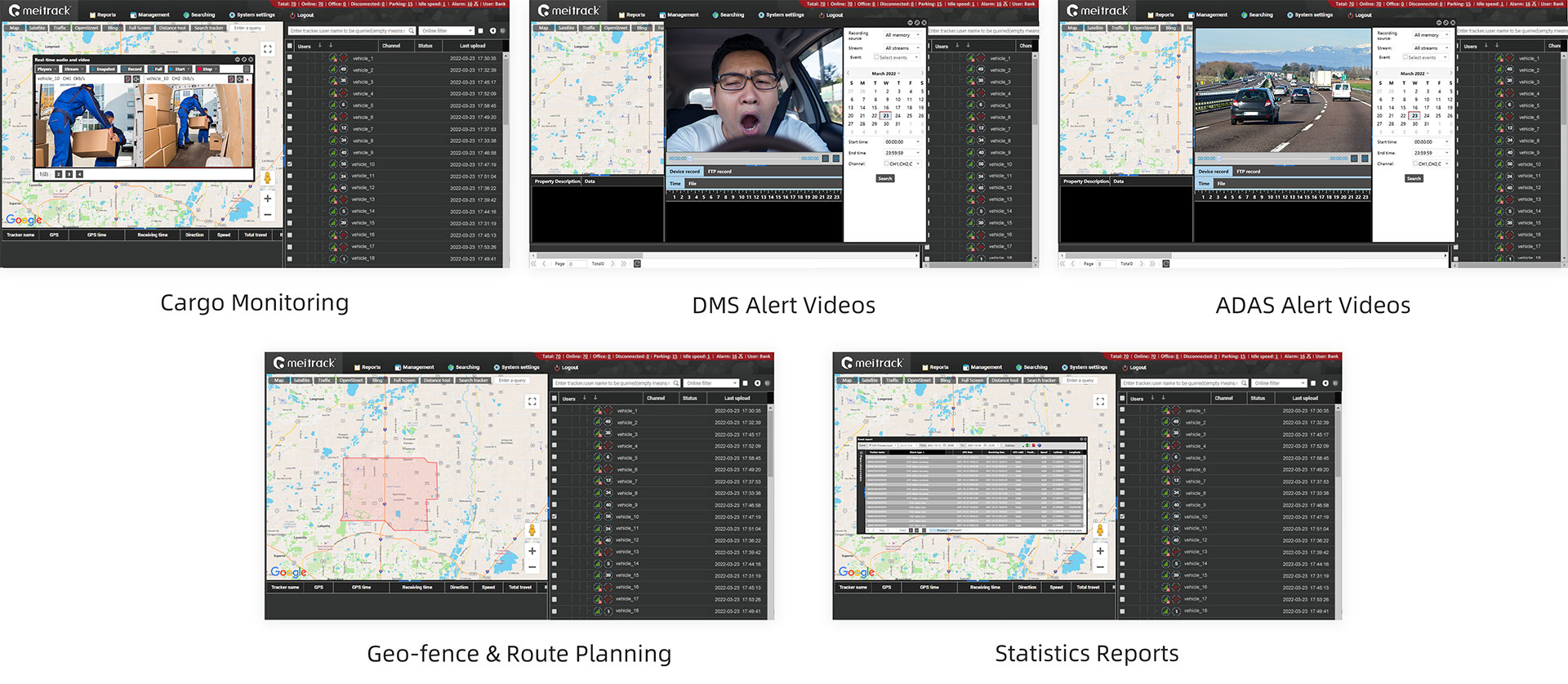 RECOMMENDED HARDWARE & ACCESSORIES
---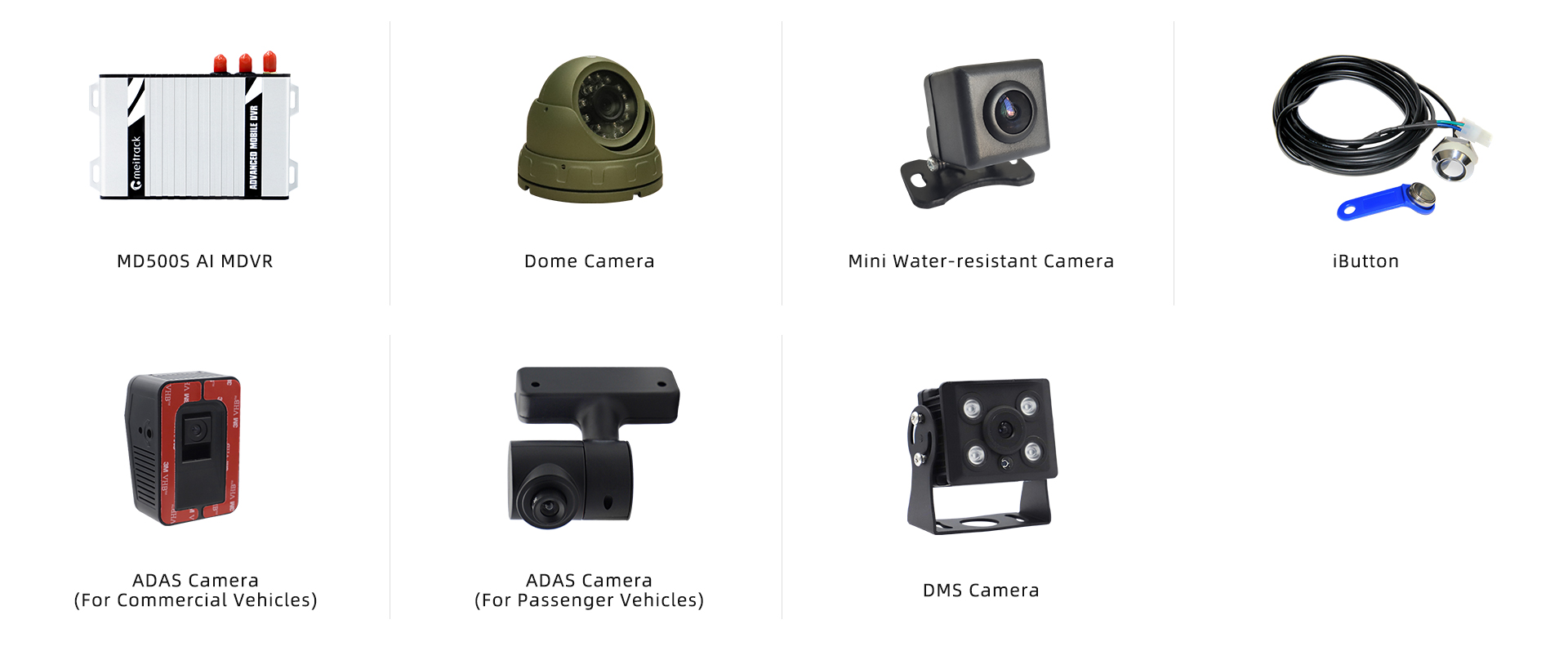 RECOMMENDED SOFTWARE
---