Exhibition: China Sourcing Fair
Date: Oct.12-15, 2013
Venue: AsiaWorld-Expo, Hong Kong
Meitrack Booth: 1F20, Hall 1
Exhibits: GPS Trackers
Shenzhen, Sep.12, 2013- as a global prominent GPS Trackers & Consumer Electronics supplier based in Shenzhen, China, Meitrack Group hereby sincerely invite you to join in the China Sourcing Fair 2013 from Oct.12-15 and visit us at booth 1F20, Hall 1.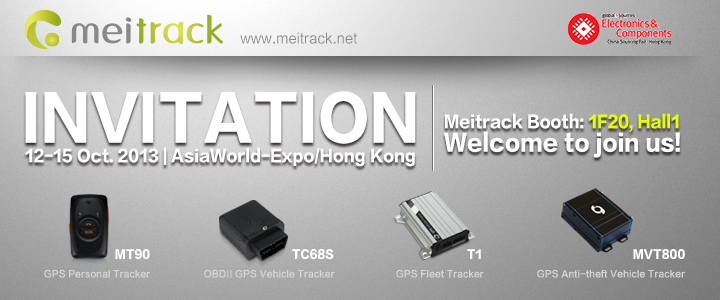 China Souring Fair Launches its focus to provide global buyers with direct access to a wide range of reliable Greater China suppliers and Meitrack Group will make its presence at the fair and showcase its latest GPS Tracking innovations for Vehicle Tracking, Personal and Pet Tracking, Fleet Management and GPS Tracking Systems with unique design and superb quality that you can trust.
Looking forward to seeing you at the wonderful fair!
Yours truly,
Meitrack