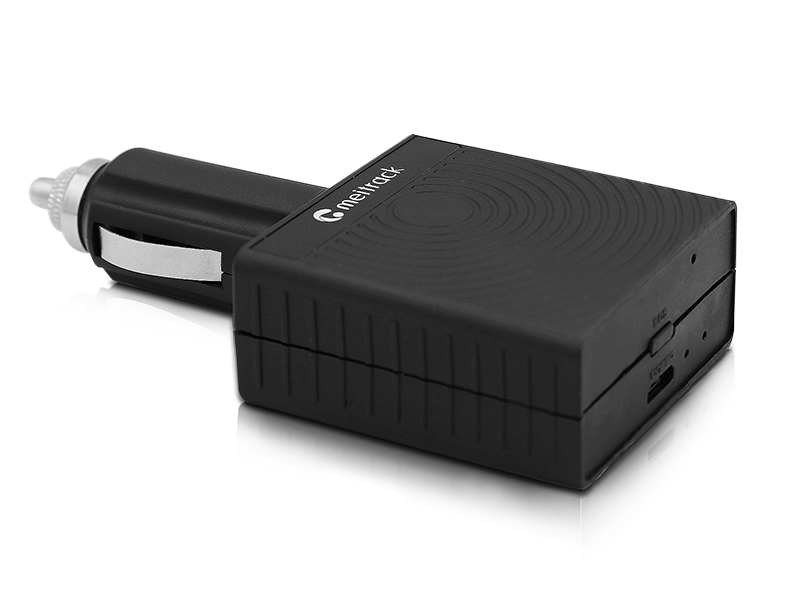 Meitrack TS299 Series
4G WiFi Cigarette Lighter GPS Tracker
The TS299 Series is a plug-and-play vehicle GPS tracker which supports live tracking, anti-theft and WiFi hotspot functions. It is free of wiring, and supports the OTA updates, which can greatly reduces labor costs. It is a perfect choice for private cars and other motor vehicles equipped with a cigarette lighter receptacle.

Built-in Bluetooth (optional)
Support multiple Bluetooth temperature and humidity sensors and beacons at one time.

2.4 GHz WiFi Hotspot (optional)
Act as an in-vehicle WiFi hotspot, up to 8 WiFi enabled devices.

Plug & Play
This tracker with cigarette lighter plug can be fastly and easily installed.

Disconnect Alert
When the device is removed from the cigarette lighter receptacle, an alert will be generated.
APPLICATIONS

SPECIFICATIONS
Dimension
105 mm x 51 mm x 23.5 mm
Weight
60g
Power supply
DC 11.5–36 V / 1 A
Backup battery (optional)
200 mAh/3.7 V
Battery life
Power-saving mode: 20 hours; Normal working mode: 2 hour
Power consumption
Current in standby mode: 100 mA
Operating temperature
-20℃ to 55℃
Operating humidity
5% to 95%
LED indicator
2 LED indicators showing GSM and GPS status
Button/Switch
1 SOS button
Memory
8 MB buffer
Sensor
3-axis accelerometer
Positioning accuracy
2.5m
I/O port
1 USB port
WiFi function (optional)
2.4 GHz WiFi hotspot
Bluetooth (optional)
Support Bluetooth 4.2 and Bluetooth 5.0
Frequency band
No WiFi version band:
TS299E:
Cat M1/NB2: LTE-FDD:B1/B2/B3/B4/B5/B8/B12/B13/B14/B18/B19/B20/B25/B26/B27/B28/B66/B71/B85
GSM: B2/B3/B5/B8
TS299L-E: 
FDD: B1/B3/B7/B8/B20/B28A, WCDMA: B1/B8, GSM: B3/B8
TS299L-A:
FDD: B2/B4/B12, WCDMA: B2/B4/B5
TS299L-AU: 
FDD: B1/B2/B3/B4/B5/B7/B8/B28, TDD: B40
WCDMA: B1/B2/B5/B8, GSM: B2/B3/B5/B8
TS299L-J: 
FDD: B1/B3/B8/B18/B19/B26
WiFi version band:
TS299L-E: 
FDD: B1/B3/B5/B7/B8/B20, WCDMA: B1/B5/B8, GSM: B3/B8
TS299L-A: 
FDD: B2/B4/B12, WCDMA: B2/B4/B5
TS299L-AU: 
FDD: B1/B2/B3/B4/B5/B7/B8/B28, TDD: B40
WCDMA: B1/B2/B5/B8, GSM: B2/B3/B5/B8
TS299L-J: 
FDD: B1/B3/B8/B18/B19/B26, TDD: B41, WCDMA: B1/B6/B8/B19
ACCESSORIES
| | | | | | |
| --- | --- | --- | --- | --- | --- |
| | TS299 Series tracker | | USB cable (optional) | | 200mAh battery (optional) |
| | CD download card | | | | |
CERTIFICATE
CE