In the coming month, Meitrack will announces the release of TS299L, the brand new 4G WiFi cigarette lighter GPS tracker. The TS299L, is a plug-and-play vehicle GPS tracker equipped with a cigarette lighter plug. This new model gracefully expands the 4G GPS tracker product line of fleet management solutions.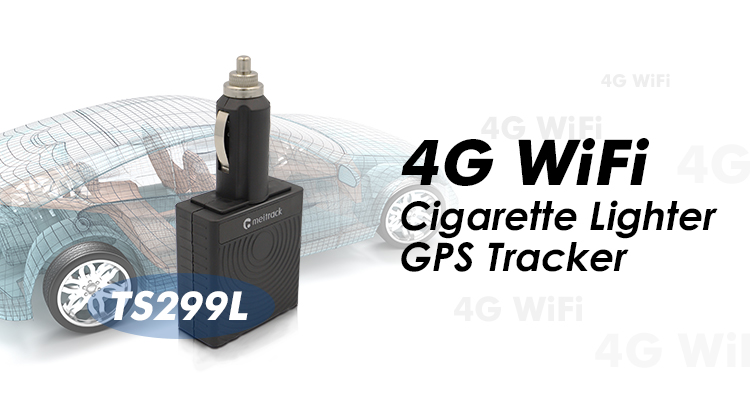 The TS299L makes installation a breeze in any vehicle equipped with a cigarette lighter plug. The TS299L can be directly plugged into the cigarette lighter receptacle of a private car, taxi or truck without any wiring. This unit is mainly used to track the vehicle's location in real time and ensure the safety of personnel inside the vehicle. Currently there are four product versions: TS299L-E, TS299L-A, TS299L-J and TS299L-AU.  Their frequency bands cover all countries in the world, thus meeting the needs of a broader range of customers.  This tracking device features an impressive LTE module, which is compatible with FDD, TDD, WCDMA or GSM networks. This allows the GPS tracker to select the desired channel in order to receive and transmit data in diverse situations. Along with the 4G LTE connectivity, the unit supports the 2.4 GHz WiFi hotspot function, and simultaneous connection of up eight WiFi networks.
Users can set alert notifications on Meitrack Manager software in advance. These include external power supply cut-off alert, speeding, geo-fence, S.O.S. alert, external power supply low battery, and device status alert. When the device is removed from the cigarette lighter receptacle, an alert will be reported to the platform or be notified to users. Once receiving an emergency alert, the closest police unit can be dispatched to the assigned area.  Users can also set the maintenance reminder alert by mileage and time using Meitrack MS03 tracking system or Meitrack Manager software. When the vehicle maintenance distance or time settings are met, users will be reminded that the vehicle needs to be maintained. Information collected through the TS299L can be viewed on MS03 platform, through a computer or smartphone.
Let's see the fantastic highlights of the TS299L:
Plug and play
4 GHz WiFi hotspot
SOS alert
Disconnection alert
Learn more about the brand new TS299L 4G WiFi cigarette lighter GPS tracker.