After Meitrack Iridium GNSS tracker T622G_F9 was launched in 2017, this model has been used in diversified scenarios where GSM networks are unavailable and telematics data needs to be transmitted, such as sea vessels, container ship, maritime, mining and exploration research. In recent years we have accumulated rich experience in Iridium projects, and our demand for Iridium technologies and services is increasing. After several rounds of negotiations, Iridium recognizes the strength of Meitrack in providing telematics solutions and authorizes Meitrack to become a Value-Added Reseller (VAR) on Iridium portfolio and SBD Air Time data plan service. In the near future, the two parties will also carry out in-depth cooperation on product technologies and marketing.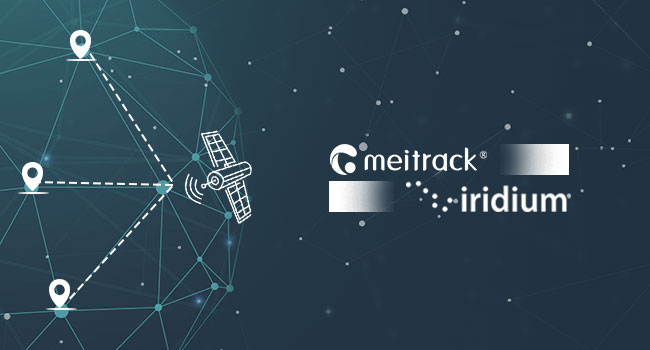 The T622G_F9 is equipped with the GSM module and Iridium module, and a GSM network can be set to a preferred option. When GSM signals are available, the Iridium module does not work. Once a GSM signal cannot be detected, the Iridium network is switched automatically via Meitrack MS03 (Tracking Management Platform) and Iridium SBD Air Time data plan service. This ensures continuous operating of this tracking unit and data transmission stability and reliability. The device has an internal G-sensor and can be connected to SOS buttons, RFID readers, relays, and fuel level sensor. Those devices work with the MS03 platform independently developed by Meitrack to implement the following functions: speeding alerts, harsh acceleration alerts, harsh braking alerts, SOS alerts, driver identification, remote fuel and power cut-off, and fuel level monitoring.
"We are excited to be a VAR of Iridium. Iridium technologies not only make telematics terminals cover a wide range of applications scenarios, but also truly achieve data connectivity anywhere in the world." said Mr. Liu Kejian, president of Meitrack Group. "We will continue to put more efforts into providing superior Iridium tracking devices and services for customers."
About Meitrack
Meitrack is a leading telematic and solutions provider in the area of GPS tracking. Since founded in 2002, we have been on a mission to pursue excellence in the telematics field. Aiming at sound and stable development, we establish offices in California, Hong Kong, Taiwan and Tokyo, and have actively expanded an international distribution network covering more than 170 countries and regions.
About Iridium
Iridium is a satellite communications company that offers voice and data connectivity anywhere in the world. Powered by a unique constellation of 66 cross-linked Low-Earth Orbit (LEO) satellites, the Iridium network enables global connections between people, organizations and assets, in real time. Through an expansive partner network of over 500 international technology companies, Iridium is advancing the way enterprises, governments, and individuals communicate every day.