Today, Meitrack officially announces the successful development of its first 3G/LoRa GPS smart lock K211G, which will meet the operation needs of transportation and logistics companies.
We have successfully combined a mechanical lock with GPS, and advanced wireless communication technologies to make a high security smart lock. The K211G is more than just a smart electronic lock, it is also a sophisticated GPS tracking device that supports Long Range (LoRa) and GPRS communication. The unit is specially designed for door lock management in various land and sea transportation such as box trucks, trailers and containers, and has gained the interest of many logistic companies. The K211G can constantly monitor the integrity of the vehicle doors and provide accurate tracking information, lock status and real time warning alerts according to your predefined events. This is to prevent goods from being stolen and replaced during transportation. It is proven to withstand repeated direct blows, shakes, extreme temperatures, and long hours of operation that transportation and logistics companies demand.
The unit can communicate through LoRa, GSM, RFID, and a feature-rich user friendly MS03 platform. It can be locked or unlocked by swiping authorized cards or sending commands. When you swipe an RFID card, the K211G will automatically detect and record the unlocking time, location and RFID card number, and these data will be sent to the server. You can also run a command to select a locking method: auto locking or locking by swiping RFID cards. To make the K211G and T399G vehicle tracker communicate with each other via LoRa, you need to bind the two devices. Then the K211G will send information such as lock status information and battery power to the T399G via LoRa.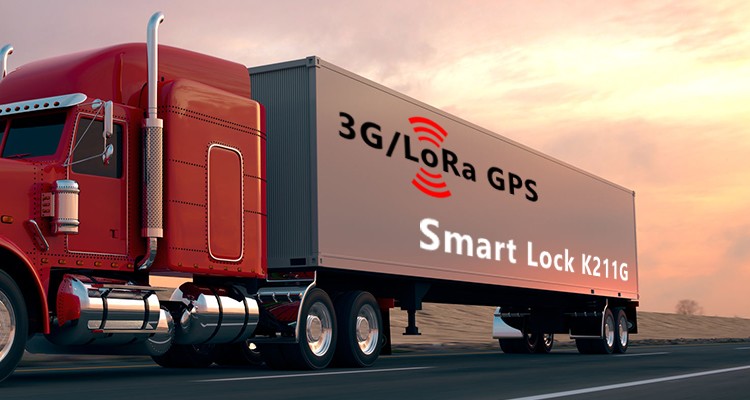 Featured highlights of the K211G:
1. Keyless design
2. LoRa communication (optional)
3. 78 days of battery life
4. IP67 water resistant
5. Locking or unlocking by RFID or command
6. Dual SIM cards
Learn more about the all new K211G Smart GPS Lock.