Excitement is building as Meitrack gears up for the Global Sources Consumer Electronics Show from October 11th to 14th, 2023 at AsiaWorld Hong Kong. This event gathers high-quality OEMs/ODMs in mainland China and Asia like Meitrack to display in-demand electronics. Make sure to visit Booth 7M02, where you'll discover groundbreaking telematics solutions that will shape the future of the consumer electronics industry. Meitrack Group is showcasing cutting-edge GPS, IoT innovations and exciting product launches.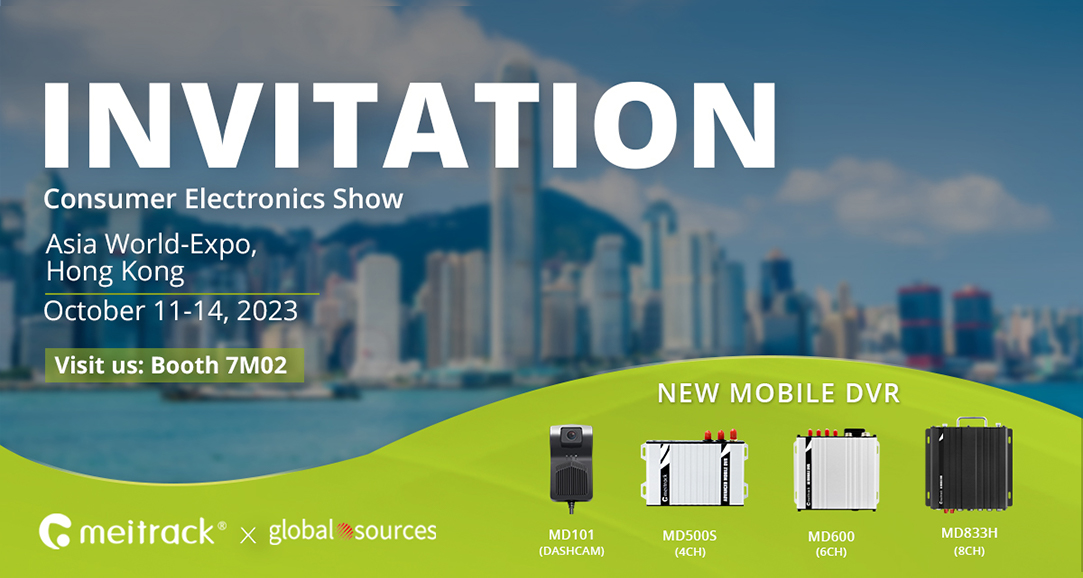 Why Global Sources Show in Hong Kong?
Hong Kong, a bustling metropolis renowned for its technological advancements, serves as the perfect backdrop for this global sources show. Come exploring the next generation of electronics and trending products with global buyers.
Why Visit Booth #7M02?
Meitrack's telematics solutions
We will be featuring Meitrack Systems, and the Hong Kong market will be introduced to Meitrack Telematics, Meitrack GNSS Trackers, Meitrack Cutting-Edge Mobile-DVRs, and Meitrack AI Dashcam. At the exhibition, we will highlight all of these business verticals as well as you will witness the unveiling of our most recent breakthroughs, developments, and use cases. In-depth responses and practical ideas on how Meitrack may help with your business difficulties will be given to you by our teams.
Expo: Global Sources Consumer Electronics Show 2023
Event Date: October 11-14, 2023
Venue Location: AsiaWorld-Expo, Hong Kong
Meitrack Booth: #7M02
Meitrack Exhibits: GNSS Trackers, Mobile-DVRs, AI Dashcam, Related Sensors & Accessories.