Since its establishment in 2020, Meitrack Japan, a wholly owned subsidiary of Meitrack based in Tokyo, has reached strategic cooperation with some local leading multinational enterprises (including Toyota Group and major telecom service providers in Japan) and fast-growing startups. At present, TOYOTA Connected, a subsidiary of Toyota Group, is cooperating with Microsoft Japan on a socially valuable IoT project that uses AI, IoT, and Vehicle-to-everything (V2X) technologies. In this project, they use customized Meitrack TC68L and T366L trackers, which can capture CAN data (such as the remaining fuel level, charging progress, and driving distance) of vehicles, including Toyota vehicles. Only necessary CAN data will be transmitted by the trackers, which facilitates the implementation of the entire solution at the lowest cost.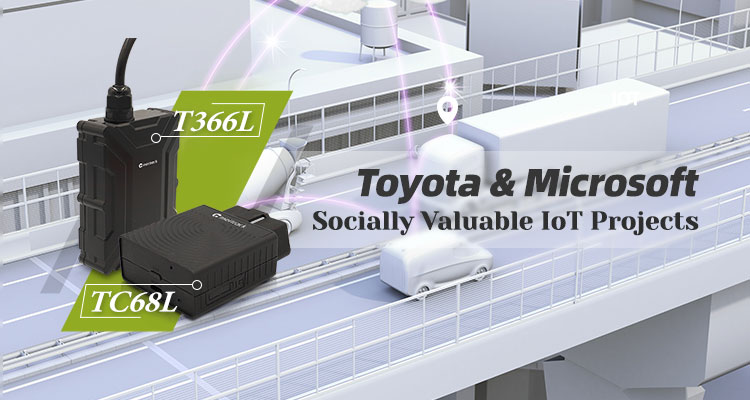 The TC68L and T366L are two of the most representative 4G vehicle trackers developed by Meitrack. The TC68L is a plug-and-play vehicle GPS tracker equipped with an OBD II plug. It is free of wiring, and supports the WiFi hotspot function and OTA updates, which greatly reduces labor costs. It is a perfect choice for Japan with high labor costs. The T366L is the first 4G GPS tracker among Meitrack product family, and its stability is widely recognized by our clients. This model features cost-effectiveness and the water resistance function. In addition to positioning and tracking, the T366L supports harsh acceleration alerts, harsh braking alerts, harsh cornering alerts, output port status controlling based on events (When the device detects unauthorized ignition or GPS antenna cut-off, the engine fails to be started), idling alerts, auto arming, and driver identification. The T366L can be connected to a fuel level sensor and a temperature sensor, which greatly broadens the application scenarios of the product.
"We are delighted that Toyota and Microsoft have chosen our trackers for a socially valuable IoT project." said Mr. Liu Kejian, president of Meitrack Group. "With more than 20 years of experience in the telematics field, we are confident that we have the capability to provide world-class customized IoT services for Toyota and Microsoft."
To learn more information about the project cooperation, please go to Microsoft News Center.