TA255 Series, the world's first 4G solar asset tracker designed with attachable structure, is officially released by Meitrack. To meet diversified business requirements, five TA255 kits are introduced accordingly. TA255 Kit 1, TA255 Kit 2 and TA255 Kit 3 offer supplied power of built-in batteries. The batteries (up to 22,400 mAh) are expected to be charged by solar panels with the standby time up to seven years. Also, the three kits support magnetic installation and drop alerts, in the purpose of tracking of goods, valuables, equipment, and other assets. The other two options, TA255 Kit 4 and TA255 Kit 5, featured with continuously supplied power by using 11-pin I/O cables. The two kits can be installed inside passenger vehicles, commercial vehicle, construction vehicles and trailers for positioning and tracking.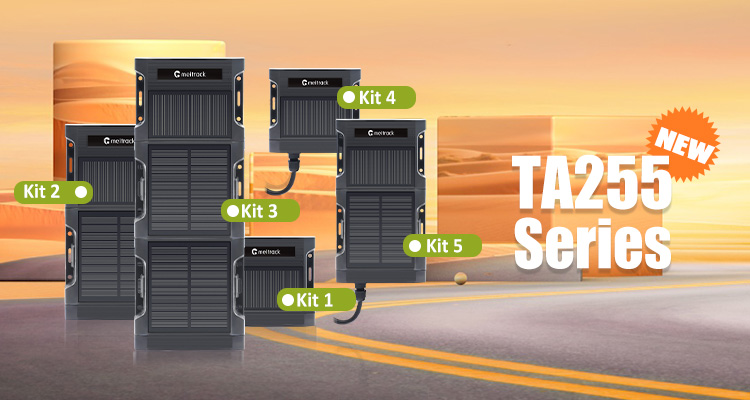 The case of the TA255 Series tracker is made of ABS materials, complied with IP67. The TA255 Series tracker has two editions, operating in LTE Cat 1 or LTE Cat M1/NB2 networks. The device can work properly in more than 200 countries and regions worldwide. It supports GPS, Beidou, GLONASS, WiFi, LBS, and A-GPS positioning. In addition, the TA255 series is equipped with a built-in Bluetooth chip, which can be externally connected to Bluetooth temperature, humidity sensors and Bluetooth beacons, enriching the wireless application scenarios
The constantly maturing network and technology have opened the door to the IoT market. At the same time, asset tracking is one of the fastest growing applications in the IoT field. We have the capability to provide high-performance hardware products as well as custom end-to-end asset tracking solutions to meet the unique business needs of customers. Moreover, Meitrack spares no effort in development of related software products. For instance, FOTA Manager platform, is suitable for automated device management, including batch configurations, remote firmware updates and account management. Also, our MS03 platform provides real-time positioning and tracking services, which allow you to query related reports and historical alert information. In terms of the asset tracking solutions, they are flexible, easy to use and cost-effective, gaining more favor from enterprise level users.
More details about TA255 Series could be found here.