Today Meitrack officially announces the release of its first AI four-channel mobile DVR MD500S featuring high stability and supporting Advanced Driver Assistance Systems (ADAS), Driver Monitoring System (DMS), video recording, and GPS tracking. Adopting the high-performance processor and Android operating system, the MD500S is a core product of intelligent video surveillance solutions that uses H.264 video compression or decompression, GNSS positioning, and wireless data transmission technologies. This unit is specially designed for mobile video surveillance for different types of vehicles, such as buses, long-distance coaches, taxis, logistics vehicles, special purpose vehicles (such as armored cars), and private cars.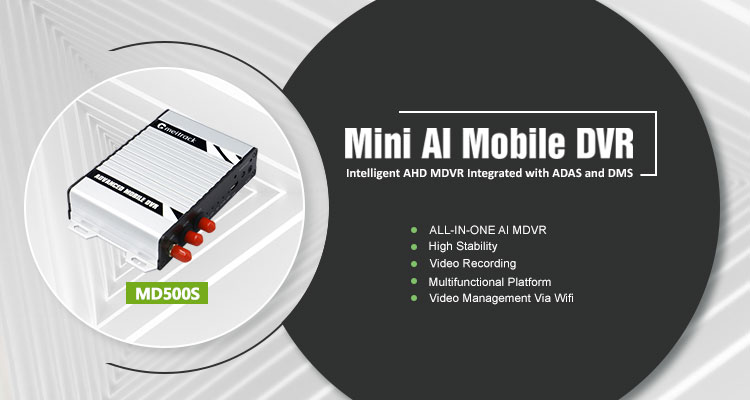 The MD500S is small in size and light in weight. With the aluminum alloy outer case, it dissipates heat more effectively and its rugged sturdy housing make it shockproof, which makes sure that this device can work properly in harsh environments. The MDVR can be connected to cameras of the ADAS and DMS, which helps improve bad driving behaviors, reduce accident rates, and protect the safety of the driver and passengers. In addition, secondary development for the device is supported. Customers can develop related software as required to meet diversified business demand, thus reducing customization costs. It is a perfect choice for application scenarios with special requirements and confidentiality requirements.
As a growing number of customers attach very great importance to driving safety, the market demand for ADAS and DMS technologies is increasing rapidly. Influenced by global economic fluctuations, customers show a very conservative attitude to the decision of purchasing a car. Consumers prefer to extend the service life of existing vehicles through vehicle maintenance and aftermarket parts installations, which increases the demand for aftermarket parts in the automotive stock market (especially commercial vehicles with high prices). At present, a majority of commercial vehicles are not installed with ADAS and DMS systems, so the automotive aftermarket parts market has huge market potential. To respond to diversified market requirements, Meitrack integrated ADAS and DMS systems into its product family in 2017. With nearly five years of technology accumulation, the market-proven MD500S is likely to have a larger share in the commercial automotive aftermarket parts market worldwide.
Want to take an in-depth look at the MD500S? Click here!