Today Meitrack is pleased to announce that its MD533S MDVR is licensed by National Broadcasting and Telecommunications Commission (NBTC), an independent state telecommunications regulator in Thailand. This model complies with technical specifications that have been approved by NBTC and is permitted to enter the Thailand market.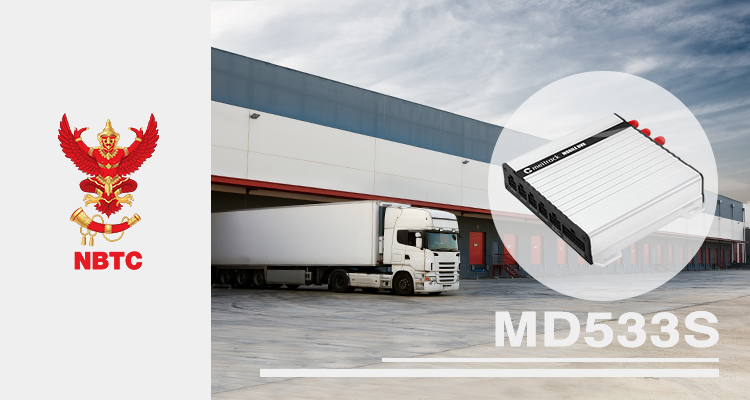 With the development of 4G networks, texts and pictures uploaded by GPS trackers can no longer meet diversified requirements of the fleet management industry. A growing number of customers hope that related videos can also be viewed. After the first 4-channel HD mobile DVR MD511H developed by Meitrack was released in 2018, we have been on a mission to pursue excellence in video surveillance. More mobile DVRs including 4-channel MD522S, 8-channel MD811H, 8-channel MD822S and 2-channel MD533S were released later. These devices including the MD533S are widely recognized by customers worldwide, especially the Thailand market, due to the following highlights:
All customized functions of GPS trackers including magnetic card reading are available for MDVR users. This meets users' diversified business demands, especially for Thailand DLT project.
The MDVR can work with accessories supported by GPS trackers, so that more solutions can be provided, such as passenger counting, tire pressure monitoring, advanced driver assistance, temperature monitoring and fuel level monitoring.
Both video surveillance and GPS tracking can be implemented on Meitrack GPS tracking system.
About Thailand NBTC Certification
NBTC is an independent state telecommunications regulator in Thailand. Its duties and responsibilities are to regulate all telecommunication services in the country through formulating a Master Plan on Telecommunications Activities, setting criteria and categories of telecommunication services, permitting and regulating the use of spectrum for telecommunication services, and granting licenses to the telecom operators. Gaining NBTC certification is the basis for the market approval of telecoms equipment in Thailand.
Meitrack Devices Licensed By NBTC
Product Category
Frequency Band
Product Application
Product Model
GNSS tracker
2G
Individuals
MT90
Vehicles
T1, TC68S, VT400, MVT380
3G
Vehicles
T333, T333-A, T333-E, T333-T, T330G-E, T330G-T, T366G-E, T388G-E, T388G-T
Vehicles (CAN bus function)
T633G-E
Assets
T355G, K211G
MDVR
4G
Vehicles
MD522S-E, MD533S-E
Learn more about the MD533S MDVR.
Click here to view the MD533S training video.